It's World Cup time and the start of the Berkeley and Orinda Orthodontics 2018 World Cup Bracket Challenge!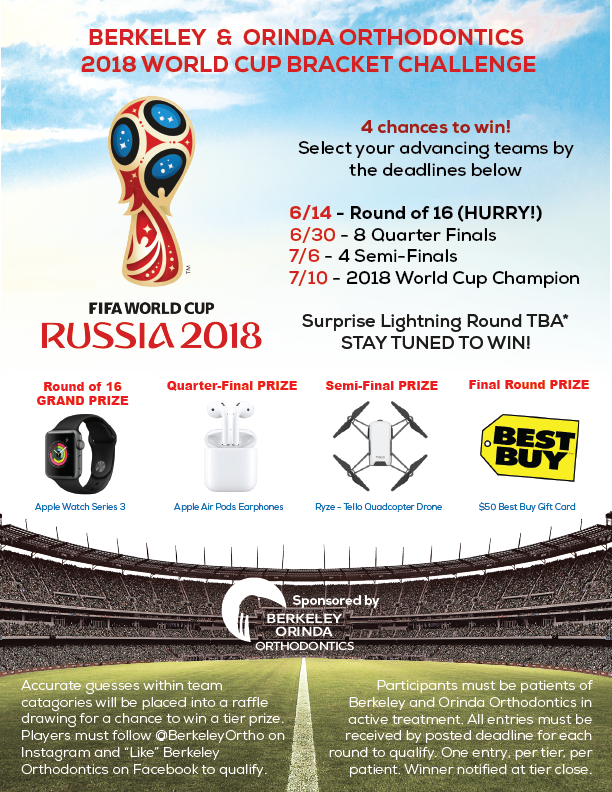 This is your opportunity to join in on all of the World Cup fun and enter to win some awesome prizes. Rules of engagement are simple. There are 4 rounds, and 4 chances to win! Be sure to get your team choices in before the deadlines to qualify. Patients are able to participate online and in-office.
1st – Grand Prize – Apple Watch Series 3 – entry due 6/14
2nd – Quarter Final Prize – Apple Air Pods – entry due 6/30
3rd – Semi-Final Prize – Ryze – Tello Quadcopter Drone – entry due 7/6
4th – World Cup Champion – $50 Best Buy Gift Card – entry due 7/10
General Rules
Each entry must display patient's first and last name.
Be sure to like our Berkeley Orthodontics and/or Orinda Orthodontics Facebook page.
Follow us on Instagram at BerkeleyOrtho.
All participants must be patients in active treatment at Berkeley and Orinda Orthodontics.
One entry per tier, per patient. Multiple patient home entries allowed.
Be sure to respond with your picks on social media or in office before each advertised deadline
All items above must be checked off to qualify to win big!
If more than one accurate guess is received, all qualifiers will be placed into a raffle drawing for a chance to win the advertised tier prize.
GOOD LUCK or as they say in Russia – удачи